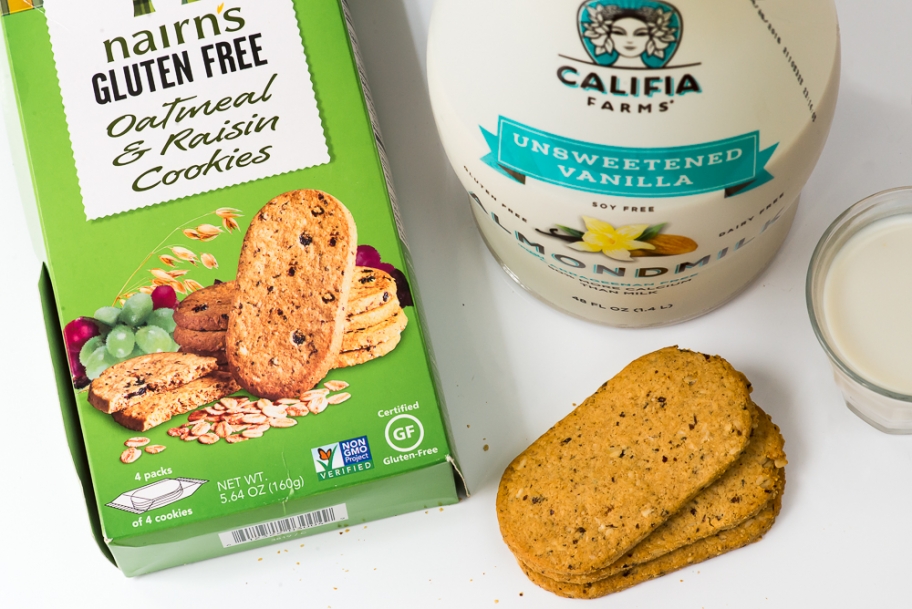 Nairn's Gluten Free Cookies are my new favorite after dinner snack. When I first tried them, I was a little thrown off–they weren't sweet at all. Then in January, when I tried to reduce the added sugar in my diet and only eat foods that had less than 5 grams of sugar, I realized–Nairn's oatmeal cookies are perfect. The slightly sweet "cookies" are  just sweet enough to be a treat at night with a glass of unsweetened almond milk–but not so sweet that you get sucked into eating the whole box.  Between 3 grams  to 5 grams of sugar (depending on the variety) and 2 grams of sugar for  two cookies, Nairn's oatmeal cookies have way less sugar and more protein than most packaged cookies or bars. With a glass of Califa Farms unsweetened almond milk, (another new favorite product) the cookies were a surprisingly satisfying treat. (I prefer the Oatmeal Grahams because they have the least added sugar.)
All Nairn's Gluten Free Cookies are made using pure, uncontaminated gluten free oats. In addition, they are tested prior to release and they bear the "certified gluten free" symbol on the box. Of course, some people with celiac can not eat oats, so the cookies are not for everyone. But for people on a gluten free diet who tolerate oats and who are looking for a low sugar "cookie" I highly recommend Nairn's cookies.
There are four different Nairn's Gluten Free varieties to choose from…
Oatmeal Grahams, Oatmeal and Raisin Cookies, Stem Ginger and Oatmeal Cookies, and Oatmeal and Chocolate Chip Cookies.