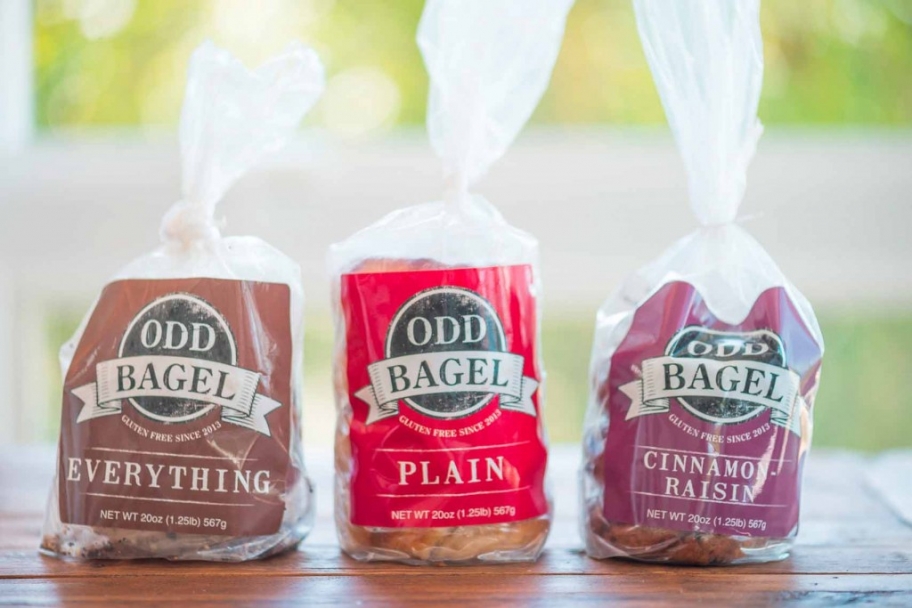 "I haven't seen a whole lot of everything bagels I can eat–so I am pretty psyched about them" was one comment I got from my gluten free review team. "Chewy but good" was another.
It is hard to find a chewy gluten free bagel that isn't "bread-like"–so The Odd Bagel comes out ahead of most gluten free bagels for chewy bagel like texture. My only criticism is they might be a little too chewy! The good thing about the chewiness is that you can eat a quarter of a bagel and you are actually satisfied in a way that you rarely are with most gluten free baked goods.
If they are frozen, defrost them in a microwave for 40 seconds with a wet paper towel over them to give them a fresh baked taste. "Definitely toast them" was another comment by our gluten free review team. Yes–these bagels are meant to be toasted. Not just warmed up–toasted. The crispiness of the toasted bagel makes them even more satisfying.
The everything bagels were the most popular and I had to quickly snap these photos before they disappeared completely. I enjoyed my everything bagel with Tree Nut cream cheese–and my other tester had a cinnamon raisin bagel with earth balance buttery spread.
Another amazing thing about The Odd Bagel is that they are made without eggs–which is great for vegans and people who are avoiding eggs  because of allergies.
As always–here are the pros and cons of The Odd Bagel…
PROS…Chewy texture. Satisfying. They actually taste like a bagel. Made with real ingredients. Made in a dedicated gluten free facility. Delicious flavors–the onion bagels and the everything bagels were the most popular. Excellent toasted.
CONS…On the small side. For those who are avoiding other allergens, they are made in a facility  that also processes soy, milk and eggs. Cinnamon raisin bagels need a few more raisins.
To find out more about the Odd Bagel  or to order visit oddbagel.com.