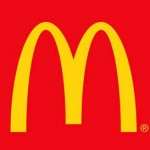 I called McDonald's to find out what the gluten free options were in 2016. McDonald's doesn't  provide a list of gluten free/wheat free items— but customer service said that I could look up  each and customize each menu  item online to see the allergens. It's a bit of work when what you really want is a list—but once you get the hang of it—it actually works very well.
We avoid eating at McDonald's for many reasons. Unfortunately,  I have discovered that avoiding McDonald's is more of a challenge for my kids. Whenever there is a long bus ride for school or camp the bus inevitably stop at McDonald's. For gluten free teenagers living in the real world— McDonald's seems to be a restaurant  they need to learn to navigate. Not eating is sometimes not an option—because there are no other food options available.
Navigating the website is complicated  and nutrition info, ingredients and allergens are all hidden and hard to find so I provided the steps below that were given to me by McDonald's customer service at 1-800-244-6227.
Here are the items that I found to be gluten free according to me searching on their website (date: September 21, 2016)
GLUTEN FREE  ITEMS (that don't contain wheat)
SALADS:
• Bacon Ranch Grilled Chicken Salad
• Southwest Grilled Chicken Salad
DRESSINGS:
• Newman's Own Ranch Dressing
• Newman's Own Low Fat Family Italian Dressing
• Newman's Own Balsamic Vinaigrette
• Newman's Own Creamy Southwest Dressing
SNACKS:
• Apple Slices
• Mandarin Orange Cuties
• Yoplait Go-Gurt Lowfat Strawberry Yogurt
DESSERTS:
• Hot Fudge Sundae
• McFlurry with M&M's Candies
• Hot Caramel Sundae
• Strawberry Sundae
• McCafe Vanilla Shake
• McCafe Strawberry Shake
CUSTOMIZED ITEMS THAT CAN BE MODIFIED TO BE GLUTEN FREE…
BREAKFAST
• Egg McMuffin (customize—request without the classic english muffin)
* Sausage McMuffin with egg (customize – request without the classic english muffin)
• Egg White Delight McMuffin (customize – request without the classic english muffin)
• Bacon Egg and Cheese Biscuit (customize – request without the biscuit)
LUNCH/DINNER:
•  Hamburger (customize- request without the  bun or you can request it wrapped in lettuce)
• Artisan Grilled Chicken Sandwich (customize – request without the bun)
ADVICE FOR SEARCHING THE McDONALDS WEBSITE..
• Go to McDonald's website
• Click on "OUR MENU" at the top left corner.
• Click on "VIEW FULL MENU >" at the bottom of the pull down menu.
• Click on the menu item that you want to check. (I clicked on hamburger)
• Click on "VIEW FULL NUTRITION AND INGREDIENTS"  (in small faint gray letters underneath the pictures of the ingredients)
• Scroll down to the menu item and on the right side click on "SHOW DETAILS"
• Click on INGREDIENTS tab
• You can see the components of the menu item at the top of the screen. There will be a list of the ingredients in each component. And at the bottom of the list of ingredients for each component is the allergens it contains.
• You can deselect the component/ ingredient (for instance the bun in the hamburger) but clicking on the red circle under the photo of the regular bun. Then the menu item will pop up without the bun allergens (and be wheat free.)