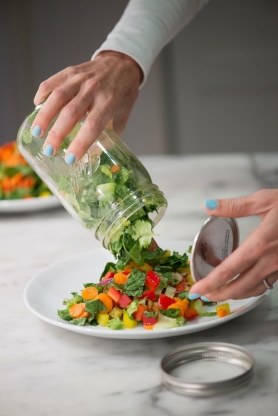 Mason Jar Salads and More: 50 Layered Lunches to Grab and Go by Jilia Mirabella is an inspiring book about how to pack a healthy and nutritious lunch in a salad jar! It's a great book with many inspiring ideas. I recommend buying the book and incorporating one new salad a week. The book is also a great mother's day gift for anyone who is interested in healthy eating.
This is my take on a mason jar salad—using easy to find ingredients  that create a rainbow or vegetables. This one quart jar of salad is super satisfying and gives you 238% vitamin  A and 472% vitamin C and only 250 calories. (vitamin A and vitamin C are markers for the nutrient density of the food found at the bottom of food labels.) I figured the nutrient content out on My Fitness Pal (another great tool for those trying to track calories and nutritional information!)
I usually have the salad with a side of lentils and rice, a veggie burger or leftover chicken or shrimp. The salad itself is only 202 calories, so although it is a large volume of food, you really need to eat some carbohydrates and protein with it.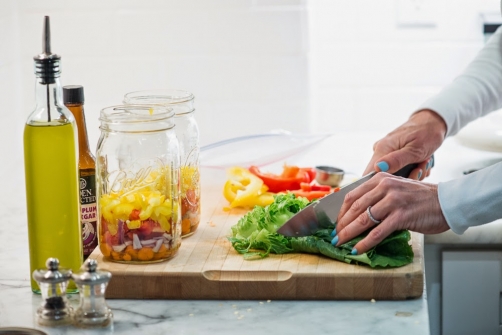 Rainbow Salad
Ingredients:
1 tablespoon olive oil
1 tablespoon rice wine vinegar
splash of plum vinegar (optional)
salt – a generous sprinkle
fresh pepper
1-2 carrots depending on size, sliced in thin rounds (1/3-1/2 cup)
2 tablespoon red onion, sliced thin and chopped in 1 inch pieces
1/3 red pepper, diced into 1/2 inch dice
1/3 yellow pepper, diced into 1/2 inch dice
2 cups romaine lettuce pieces
1/4 cilantro
Directions:
In the bottom of a 1 quart mason jar, put olive oil, rice wine vinegar, plum vinegar, salt and pepper.
Layer the following chopped vegetables:
-carrots
-red onions
-red pepper
-yellow pepper
-romaine lettuce
-cilantro
Secure with lid.
To serve:
Shake the jar so that the dressing from the bottom  covers all the vegetables. Serve on a plate or bowl or eat right from the jar! I like to serve it on a plate—but if you are at work or on the go eat it right from the jar.