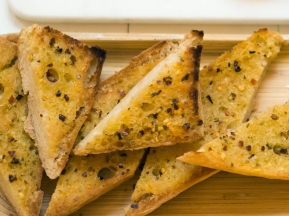 Earth balance and olive oil give this garlic bread a hint of buttery flavor. We have decided Schar baguettes makes the best garlic bread–but you can use your favorite gluten free french bread. You might have extra garlic butter–which you can save to flavor eggs, vegetables, meat, or fish.
Ingredients:
2 clove of garlic
1 teaspoon oregano
1/2 teaspoon red pepper flakes
2 tablespoons earth balance buttery spread
4 tablespoons olive oil
Directions:
Preheat broiler to 550 degrees.
Crush the garlic into a fine paste using a garlic press or the flat edge of a chef's knife and some salt on a cutting board. Add the oregano and red pepper flakes. Using a spoon, mash in the earth balance spread until it is well combined and softened. Then slowly incorporate the olive oil until it is well combined.
To make the garlic bread, slice a Schar's baguette in half lengthwise and using a spoon generously cover the insides of both halves with garlic spread. Broil for 2- 3 minutes watching carefully. Cut each half into 3 squares and then cut each square in half.
We love this garlic bread with sliced tomatoes, salt and pepper or serve with your favorite italian dish.
Related posts: