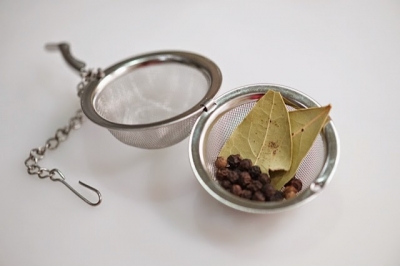 Making stock in the winter is a wonderful tradition and a great way to warm up the kitchen. Fresh peppercorns and a few bay leaves are always added to stock for extra flavor–but they can be tricky to get out at the end. They do sell cotton spice bags, that allow you to easily remove inedible spices from a soup or stock–but this week I used a stainless fine mesh tea bauble for the peppercorns and bay leaf.
When the stock was finished simmering, I easily removed the tea bauble and I didn't have to deal with looking for the bay leaves or the peppercorns getting mixed in with the vegetables.
Homemade chicken stock can easily be the base of a warm winter meal! Chicken noodle soup and chicken soup with ramen noodles are my kids favorite winter soups. Asparagus soup is my favorite.