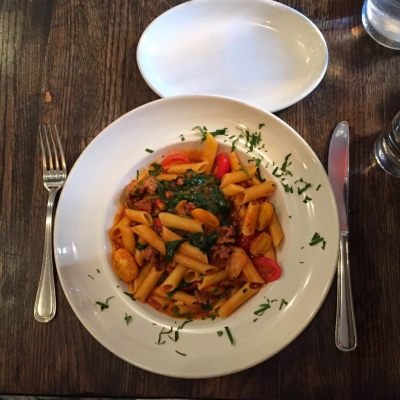 You would never know the food is absolutely fabulous (or they had so many gluten free options) at Galli Restaurant
in SoHo. The large wooden booths and low key feel of
Galli make it a perfect spot for a romantic dinner, fun lunch or
dinner–and the large selection of gluten free pasta, delicious salads
and entrees gives you a lot to choose from on the menu.
Galli's
perfectly cooked and seasoned steak was pronounced "the best steak I've
ever had" by my kids–and they eat a lot of steak. The prices at Galli
are also reasonable–making it a great choice for a date night or large
group.
This fall I was served a steaming plate of
salsiccia pasta with gluten free penne, spicy fennel sausage, wilted
spinach in a roasted tomato sauce. When I asked the waiter what made it
so heavenly he said he didn't know–but they used organic San Marzano
tomatoes imported from Italy. Which goes perfectly with the understated
vibe at Galli–there is no mention of "organic" or "imported" on the
menu–instead they describe it as a "light marinara sauce." Well–it's
the best marinara sauce I have ever tasted.
The truth
is that I have hardly ventured beyond the salads, pastas and steak
because they salsiccia pasta and bolognese are so tasty! But from the
consistency of the food I have been served I can confidently say that
all the food is exceptional at Galli restaurant–they just know how to
cook and how to season food.
Galli Restaurant has two locations…
45 Mercer Street
(btw Broome & Grand Streets) NY, NY 10013
212-966-9288
Lower East Side location:
98 Rivington Street
(Corner of Ludlow St.)
New York, NY 10002 212-466-1888