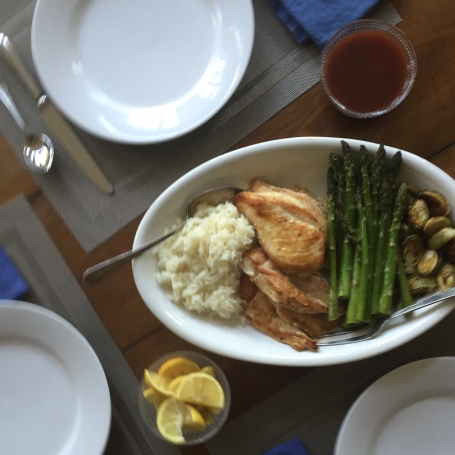 I always think of my friend Peggy when I am too tired to cook anything. She once confessed that she served rice, vegetables and a meat every night for dinner. Although she was a little embarrassed that she wasn't being more creative or offering more variety to her family, her simple dinner formula is an inspiring model to me when I feel too tired to cook anything.
"I'll make what Peggy makes!" I think to myself when I am too tired to rally to make dinner. It works without fail. In half an hour the rice and meat are cooked, vegetables are steamed or roasted and dinner is served. Here's how…
RICE…
Measure 1/2 cup Lundberg Farms organic white rice and 1 cup of water in a small pot. (This makes about 1 1/2 cups of rice–double if you need additional rice.)

Bring to a boil.

Cover with a lid and set the timer for 15 minutes.

When timer goes off DO NOT OPEN. Set timer for 15 more minutes.
VEGETABLES…
Turn the oven on to 350 degrees or put a steamer basket in a pot with an inch of water and bring to a boil.

Prep vegetables for roasting or steaming.

Drizzle with olive oil.

Steam or roast vegetables.
MEAT…
Put olive oil in a pan over medium heat.

Season meat, fish, chicken or shrimp with salt, pepper, onion salt, garlic salt and paprika.

Pan fry until cooked.

Serve with lemon or barbecue sauce on the side.
Dinner's done. In record time. Without a big fuss. Without stress. Thanks to Peggy–who is doing an amazing job getting dinner on the table every night for her family.