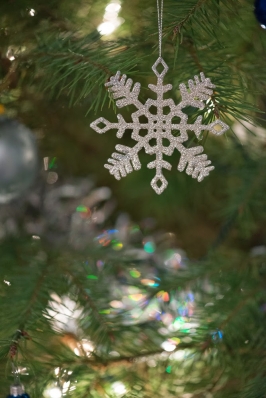 Merry Christmas and Happy Holidays!


Our Christmas morning was spent trying to hail a cab in the rain with a large suitcase full of stocking stuffers and a silver tree. It was the complete opposite of a white Christmas as it was also pitch dark-but I'm not complaining as we are headed to Mexico. We did have some tasty crepes before heading out the door at 6:15 am.
I had my crepe with melted fudge from a recipe from the January/February issue of Gluten Free and More which arrived in the mail yesterday. The "healthier for you" fudge tastes like Nutella and added a little joy to my too early and too harried Christmas morning. Unfortunately, our early departure didn't leave any time for photos of the crepes so I am posting a Christmas photo.
The crepe batter was made yesterday which meant I only had to pour the batter into a hot pan. Making the batter in advance and having a hot pan are the secret to perfect crepes. Here is the recipe–which was sent to me by my sister who says that King Arthur Flour makes the best crepes!
Gluten-Free Crepe Recipe (gf/cf)
1 cup gluten free King Arthur flour

1 tablespoon sugar

1/4 tsp baking powder

1/2 tsp salt

1 tsp vanilla

2 eggs

1 1/4 cup Silk almond milk or milk

2 Tablespoons melted oil or butter***
Whisk all ingredients together or blend in a blender on low speed. Ideally, let crepe batter sit overnight in the fridge or for a few minutes/hours to allow ingredients to blend together.
Melt 1 tablespoons additional butter or oil in a 9 or 10 inch sauté pan or crepe pan for 1-2 minutes over medium heat. Quickly pour crepe batter into the pan while swirling the pan so that the batter coats the bottom of the pan evenly. Cook 1-2 minutes per side until lightly brown.
Serve crepes with jam or Nutella or Enjoy Life chocolate chips inside and a sprinkle of powdered sugar.

•••I suggest using 1 tablespoon spectrum shortening and 1 tablespoon earth balance buttery spread for a slight "buttery" flavor if you are dairy free.