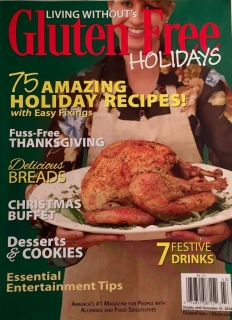 Living Without's Gluten Free Holidays 2014 is a special holiday issue full of delicious recipes and menus which are free of most allergens. As soon as my issue arrived, I was inspired to make cream puffs which certainly put everyone in the holiday spirit. There are over 75 great holiday recipes and a Christmas buffet menu, recipes for traditional favorites like chocolate crackled cookies as well as fun new ideas like minty pea hummus.
All the recipes in Gluten Free Holiday 2014 are all well tested by the Gluten Free and More testers so you can depend on them for your holiday meal.
You can hang on to this issue for years to come–or order it as a gift for someone with food allergies in their family as a guide. Keep the magazine with your holiday recipes and cookbooks or pack it up with your holiday decorations! It's a great resource for anyone on a restricted diet!