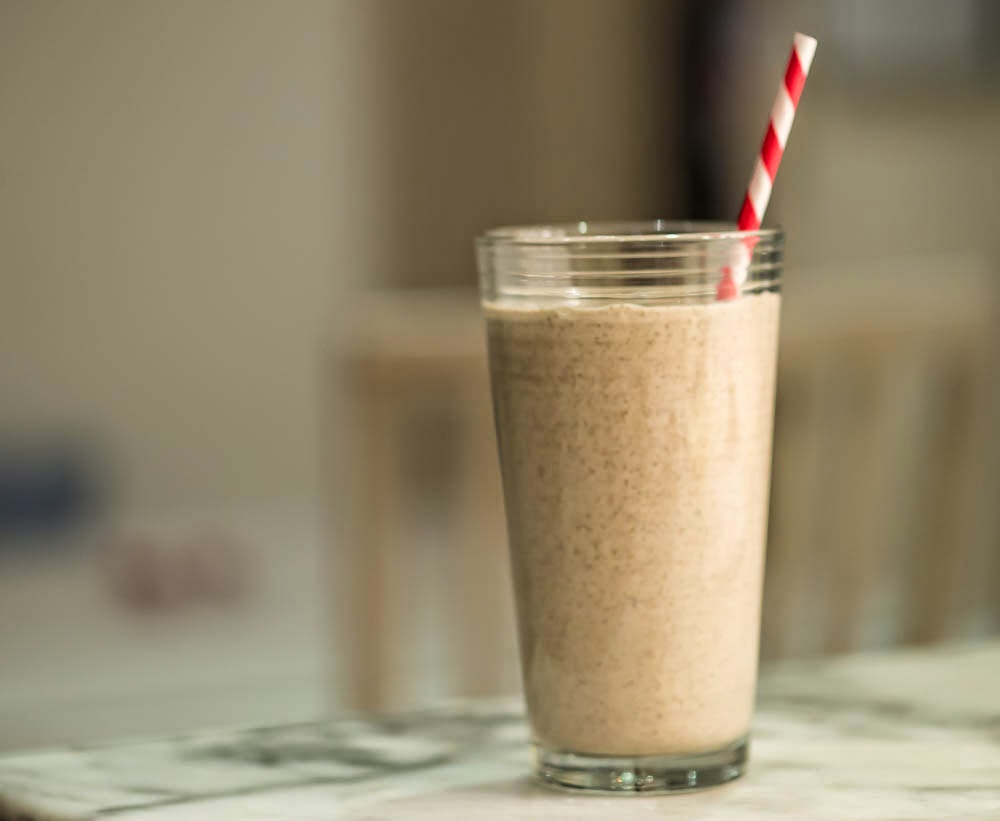 This cinnamon Sunwarrior protein shake recipe is gluten free, dairy free, raw, vegan and free of refined sugar! I was introduced to Sunwarrior natural protein powder when I was visiting a good friend who is vegan in Los Angeles this summer. Most protein powders I have seen have too many ingredients and seem too processed to be part of a healthy diet.
Sunwarrior natural protein powder is a cut above the other protein powders. It is vegan, raw and has only four FOUR ingredients (a proprietary protein blend from Raw Organic Pea Protein, Raw Cranberry Protein, Raw Organic Hemp Seed Protein and Medium Chain Triglycerides from Coconut.) Sunwarrior natural protein powder is non-GMO and although it is not labelled organic, the website says it is 98% organic.
Mostly, I fell in love with how I feel after I tried it! I have a scoop of sun warrior protein powder as part of my breakfast routine, it keeps me going until 1 pm in the afternoon. This sugar-free, vegan shake recipe is sweetened with bananas and cinnamon instead of sugar. I am not usually a calorie counter but this shake only has 237 calories and really keeps you going for hours because of the protein blend which contains all essential amino acids in a complete, balanced profile.
SUNWARRIOR CINNAMON PROTEIN SHAKE RECIPE
1 scoop Sunwarrior natural protein powder

1 cup silk almond milk (Silk 30 calorie vanilla)

1 banana

1 teaspoon cinnamon

1 pinch of salt

1.5 cups ice
Blend all ingredients except the ice in a Vitamix or blender for 1-2 minutes gradually increasing the speed. When completely blended add the ice. Enjoy with a sprinkle of cinnamon or nutmeg.
• Coffee: Add ice cubes made from coffee for a delicious coffee shake!
•"Milkshake": Add a tablespoon of your favorite sweetener (agave or maple syrup) if you want it to be more like a milk shake! When I first started making this shake I added extra sweetener, but then I discovered I didn't even need extra sweetener!