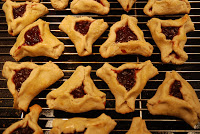 My son was having Hamantashan at his school so I made a gluten free version. It was easier than I thought it would be. And the cherry filling made them like little cherry pies.
1 cup sugar
1/3 cup oil
1/3 cup shortening
3 eggs
1/3 c. orange juice or lemonade
4 cups gluten-free flour blend (1/2 finely ground rice brown flour, 1/2 sorghum flour)
3 tsp. baking powder
1 tsp. salt
2 tsp. xanthan gum
1 egg, beaten
preserves or filling
Preheat oven to 350°F. Mix sugar, oil and shortening until creamy.
Add eggs and juice and mix well.
Combine dry ingredients and add to wet ingredients. Mix until combined.
Form small balls and flatten in palm or on cookie sheet.
Put a teaspoon of filling in center, and fold up three sides to form
the shape of a triangle.
Brush each cookie with beaten egg before baking.
Bake for approximately 20 minutes. If too crumbly add a bit more
xanthan gum the next time.
Source: Adapted from a Chabad recipe and
www.jewishfood-list.com
Yield: 4 dozen