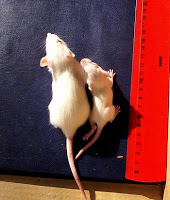 There was an article this week in the New York Times about a "Mom on a Mission" to reform the food industry and to fund independent research on food allergies. Her website,
allergykids.com, has a ton of information on allergies and how dangerous the industrialization of our food supply is for our children. On allergykids.com, Robyn O'Brien's exposure of the pervasiveness of genetically modified food in our food supply is a real wake up for all parents. Since the United States does not require food companies to disclose whether food is genetically modified or not, anything that contains soy or corn can be made with genetically modified ingredients. But genetically modified soy is particularly scary because the molecule is similar to the peanut molecule and in a genetically modified form.

A study done in Russia in 2005, revealed that offspring of rats fed genetically modified soy were much more likely to have abnormally low weights and die. The picture of the difference in the two rats is startling and should alarm every parent who looks forward to one day having grandchildren. In many other countries, genetically modified food is banned, but in the United States it isn't even required to be labeled. For information on how to avoid GMO Foods, go to
soyinfo.com.
I consider soy an unhealthy processed food and haven't fed soy to my kids since we went gluten free, but I did use some soy milk in my coffee–until today. Now I am going to drink it black or have rice milk with a little coconut milk if I desperately need a non dairy creamy treat.
Many parents I speak to about feeding their kids say they are really confused about what is healthy and what is not. It is certainly confusing and hard to sort out. Making homemade food out of organic ingredients is probably the best way to go whenever possible.
It doesn't always go smoothly. I am a parent with two small children who are often picky eaters. Sometimes everyone complains. Sometimes I spend my afternoon shopping and cooking and I am the only one who eats whatever I have made and I am kind of annoyed I made the effort. Sometimes I make their favorite dish only to find out they are tired of it. But sometimes they actually end up eating what I make.
Yesterday we instituted the "Rainbow Rule." You need to have three colors of food on your plate. My six year old happily told her friend we had over for dinner about it and they all had a piece of asparagus, roast chicken and rice pasta on their plate. My two year old ate the asparagus and rice pasta. My six year old at the rice pasta and chicken. We counted the carrots they ate before dinner as part of the "rainbow" and everyone had two small homemade gluten and dairy free chocolate chip cookies afterward. It was blissfully old fashioned and satisfying.