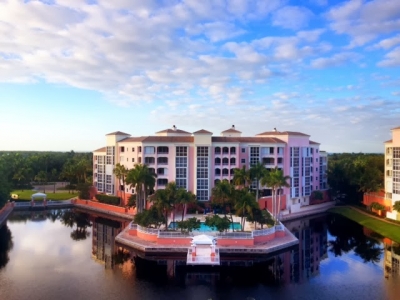 Every year we travel to the
Ocean Club on Key Biscayne
to escape the cold weather of NYC. The Ocean Club is a beautiful condo complex and private club on the beach between the Ritz Carlton and the state park. Before we had to go gluten free seven years ago we enjoyed many meals at the two lovely restaurants.
For the last six years, we went to the Beach Bar and Grill with the kids and would try to order gluten-free meals for lunch. It was always a struggle and there really weren't many options for the kids. The kitchen at the poolside restaurant is super busy and very small which made it even harder. I would usually order a salad with shrimp or chickpeas and the kids would have a burger no bun. Ordering was always a huge negotiation with the staff and, curiously, my son always got sick when we were in Florida. Finally, a friendly remark that "Your son is always sick on vacation" made me realize we ended up in urgent care every time we went to Key Biscayne. So this year I told everyone we were going to try not eating at the Beach Bar and Grill at the Ocean Club for lunch. Instead we went home for sandwiches, salads, cold cuts, gluten-free mac and cheese, chips and fruit. (I am happy to report Winn Dixie now carries Organic Applegate Farm products and gf mac and cheese.) So, I am happy to report this year no one got sick and we had an amazing vacation.
Turns out the best way for Our Gluten Free Family to be gluten free at the Ocean Club is to NOT eat at the Ocean Club.
__________________________________
(I tried to contact the Ocean Club by phone for a response and they weren't able to give me one. I am hoping by writing this that one day they might have a few options that are truly gluten free for their members who have celiac and gluten intolerance. If they ever do, I am happy to let people know!)