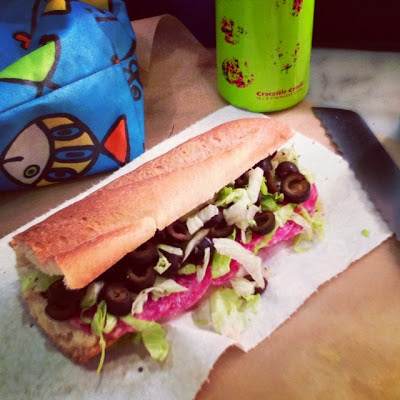 This gluten free homemade "Subway" sandwich I made for my son looked SO good that I made a second one for myself for breakfast.
Schar baguette bread
is what makes this gluten free sandwich a really tasty copy of a classic "Subway" sandwich. The unfamiliar European style packaging of Schar bread can be a little surprising, but it is actually a wonderful baguette for an American style "Subway" sandwich with a hint of sourdough flavor. When you heat it up and let it cool to room temperature it makes a great sandwich to send in a lunchbox for a gluten free kid who wants a "regular" looking lunch. (Or for a mom who is super hungry from a morning of making breakfast, packing lunch, walking kids to school and walking the dog.)
Ingredients for a "Subway" style sandwich…
3 slices Applegate Farms organic ham (or thinly sliced turkey or salami)
shredded iceberg lettuce
sliced olives
sliced red onions
jalapeno peppers
salt and pepper
To make the "Subway" hero:
Heat oven to 400 degrees. Cut Schar baguette in half. Reserve one half in the fridge sealed in a ziplock bag for another time. Place one half baguette in the oven on a sheet tray for 5 minute.
Shred a cup of ice berg lettuce. Slice olives. Chop up jalepenos.
Remove the baguette from the oven and slice in half. Let cool.
Spread mayo or mustard on the inside of the bread.
Place 3 slices of Applegate Farms organic ham (or turkey or salami) on the bread.
Add shredded iceberg lettuce, olives, red onions and salt and pepper.
Wrap in parchment paper or saran wrap.
Serve with chips and a cookie and a drink for an authentic "Subway" experience.