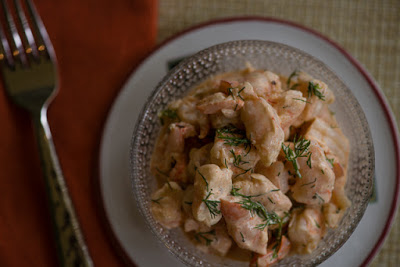 Ansley, my assistant/sitter/organizer/cook, made this delicious shrimp salad for my seven year old in the spring when we were trying to think of things he might like to eat. Alex is a burger/steak/tacos kid but we are thrilled he now likes shrimp which are easy to find and naturally gluten free.
1 pound shrimp-cooked and peeled
1/2 cup Helman's mayonnaise
1/8 teaspoon cayenne pepper
1/4 teaspoon mustard powder
1/4 teaspoon salt
pepper
1) Remove tail from shrimps.
2) Cut each shrimp into 3 pieces and place in a bowl.
3) Add lemon juice and stir to coat shrimp.
4) In a small bowl, stir together mayo, cayenne pepper, mustard powder and salt until well combined.
5) Combine with the peeled shrimp.
6) Add salt and pepper to taste.
Serve with rolls, toast or on a salad–or with crackers as an appetizer.