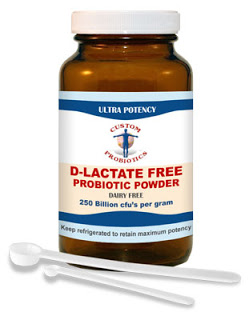 Probiotics are incredibly helpful for the immune system and for general health of both children and adults. We had incredible results from GI Flora probiotics from Allergy Research Group, which is still our favorite probiotic. Unfortunately, GI Flora contains traces of dairy so we had to switch to another brand. (If you can tolerate dairy, these are a relatively inexpensive and impressive product provided you find someone to ship it to you with a cool pack.)
Finding a "dairy free" probiotic is tricky as they are often cultured on dairy. The final probiotics are often labeled "non dairy" when in fact, they contain traces of dairy. It is not a big deal for most, but for someone who is sensitive to dairy removing these miniscule traces of dairy can be profound. TWO different practitioners who knew we could not tolerate dairy recommended GI Flora–because it is an amazing product–and they didn't know the traces of dairy would be an issue.
It wasn't until a friend, Lisa, who is dairy free called the company to check that we discovered it actually is cultured on dairy. Products labeled "non-dairy" can contain milk ingredients and there is actually no regulatory definition for the term "dairy free"–so it is hard to use these terms to determine if a product contains milk protein or not.1 Below is my list of probiotics that I have found are free of dairy. After our experience with the GI Flora probiotics, I now call the company directly to find out if the probiotics are ever cultured on dairy.
Most probiotics need to be kept refrigerated. Here are two products/brands that are dairy free…
Klaire Ther-biotic Detoxification Support. Klaire is a reputable lab that makes supplements. We used these for a while but never saw any real results. The company has a good reputation and they have a few probiotics that are dairy free.
Custom Probiotics. Custom Probiotics is a lab that just makes probiotics. Because that is all they do, Custom Probiotics makes an impressive product. We use the D-lactate free probiotics. It is quite expensive but worth every penny in my opinion. When you add the probiotic to chlorine free water you can see the live bacteria come to life. We have seen better results with Custom Probiotics that Klaire's Detox Support.