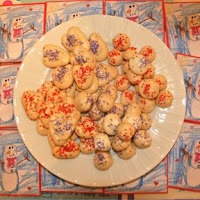 I made these cookies in the midst of packing for a vacation, helping my daughter with valentines cards and making a fish stew. There was too much going on to make them picture perfect, but it was fun and easy to make them.
My daughter never ate bread and has always preferred food that is not grain based. I love these cookies because they are naturally gluten free and are made with basic ingredients easily found in most stores.

Meringues:
4 egg whites
1 cup powdered or confectioners sugar
1 tsp vanilla
1/8 tsp cream of tartar
Preheat oven to 225º.
Eggs should be room temperature (about 70 degrees) If you take them out of the fridge, you can soak them in warm water for 5 minutes to warm them up.
Beat eggs with a mixer until foamy.
Add vanilla and cream of tartar.
Add a Tablespoon at a time while continuing to beat powdered sugar
When the mixture stands in stiff peaks it is done. Don't overmix. *** Pipe or spoon onto baking sheets covered with parchment paper. Decorate with granulated sugar. Bake in 225º oven for 1 hour or 175º oven overnight.