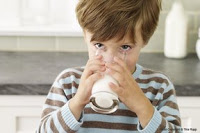 If I can give up milk, anyone can.
I drank two to four cups a day for years. It was my favorite food. When testing revealed my son had an intolerance to many foods, I blamed my husband who had a sensitive stomach. I had an iron stomach and could eat anything without a problem. But several food challenges and testing revealed that many chronic problems (moodiness, fatigue, and spaciness) I had lived with for many years were actually food intolerances and responded dramatically to dietary intervention.A my Lanou, PhD, director of nutrition for the Physicians Committee for Responsible Medicine (PCRM) in Washington, D.C. says:
"I don't think cow's milk is a necessary food for kids," she says. Lanou reports the biggest perceived benefit—building strong bones—doesn't hold up in studies.

"In recent years, review articles in Pediatrics and the British Medical Journal show calcium in milk and other dairy products has no appreciable effect on children's bone health." She believes milk has no place in a human diet: "The negative effects outweigh the benefits. One in four children in the U.S. doesn't digest milk well."

A growing chorus of supporters agree with Lanou: While few dispute that milk is rich in nutrients, many believe the risks outweigh the benefits. Studies have linked milk, cheese, yogurt and other dairy products to higher incidences of osteoporosis, ear infection, gastrointestinal distress, diabetes, heart disease, kidney disease, even cancer.

Now my favorite non-milk drink is 1 cup of rice milk with 1-2 Tablespoons coconut milk.
This is an interesting YouTube video about how the industrialization of milk and the problems it causes.