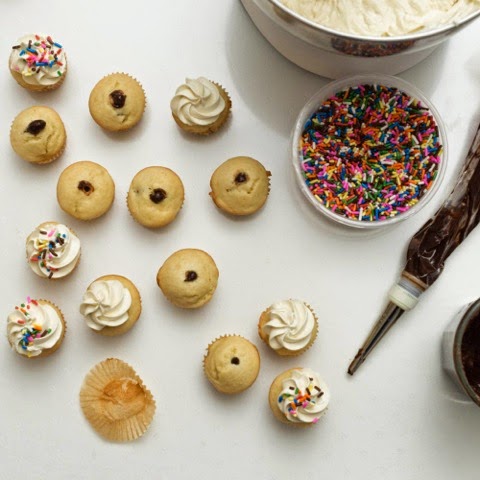 Well, you can see my New Year's resolution to give up sugar is going very well. My last three posts have all been sugary treats! Maybe I should rebrand my blog to be "Gluten Free Desserts That I Really Shouldn't Eat."
Feeling very deprived when his class had brownies today, my son requested that I make cupcakes. I rallied to make these vanilla cupcakes with a Martha Stewart Italian Meringue Buttercream. My son ate a total of one unfrosted cupcake then ran away to play basketball–so I am left with 23 mini cupcakes.
Some of the cupcakes are filled with dairy free "nutella"–which I had in my fridge from the last time he asked me to make something that he was missing out on only to decide he didn't really want it anyway. The creamy, chocolate filling inside the vanilla cupcake with sprinkles are a great combination and a nice surprise.
The truth is as tasty as these cupcakes look, I made a mistake when I was baking. Instead of using my regular flour blend, I used a premixed gluten free flour blend and I did not notice that the blend had xanthan gum in it until the batter was completely mixed and I noticed it was stickier than usual. So, the recipe had twice as much xanthan gum as it needed.
WHAT HAPPENS IF YOU USE TOO MUCH XANTHAN GUM?
If you use too much xanthan gum in a cake or cupcake recipe, often the final baked item will deflate as soon as it cools. You will get a crater like shape in the middle. Instead of a lofty cake it will look like someone dropped it on the floor and it fell. The texture will also be affected. These cupcakes taste chewy–kind of like a vegan cupcake. Since xanthan gum is very gummy, they don't have that light and airy feel of a cupcake but a chewy texture.
I am sure the extra xanthan gum is the reason I am left with 23 cupcakes to eat! At least I got a photo.