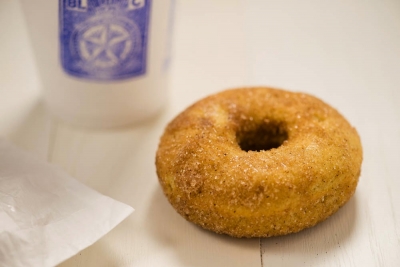 After one bite of the gluten free cinnamon sugar donut from Bluestone Lane Coffee, I quickly stopped eating it and put it back in the parchment paper bag. I really didn't believe the not too sweet but very moist and tender donut was gluten free. On my way home, I went back to ask the manager about the ingredients to double check. Yes. This cinnamon sugar donut is, in fact, gluten free!
The donuts are made by Sans Bakery and you can find them at Bluestone Lane Coffee at the retail locations listed below. Interesting to see that Bluestone Lane does not have any signs on the gluten free items–but they keep all the gluten free items on the top shelf separate from the gluten containing pastries–so they obviously know what they are doing in terms of cross contamination. Although they physically separate the items from items that contain gluten, the lack of signage is actually quite nice. It slows the line down the little because you have to ask what everything is but it adds to the old fashioned personal experience. And for those who want to see the ingredient list and verify the gluten free status of the items there is a nice binder available which lists all the products and ingredients.
Bluestone Lane Coffee also serves an avocado mash sandwich and they have Sans Bakery gluten free bread (that is also dairy free!) that is available by request. I didn't get a chance to try the avocado mash sandwich but nice to know that they have gf bread–and they look fabulous. WOW, IS THE COFFEE AT BLUESTONE LANE GOOD and they have almond milk and soy milk available for vegan and dairy-free coffee drinkers.
Bluestone Lane Coffee caters to everyone in a subtle and sophisticated way that feels ahead of it's time and very classic at the same time.
BLUESTONE LANE COFFEE LOCATIONS in NYC…
Corner of W 43rd & 6th Ave