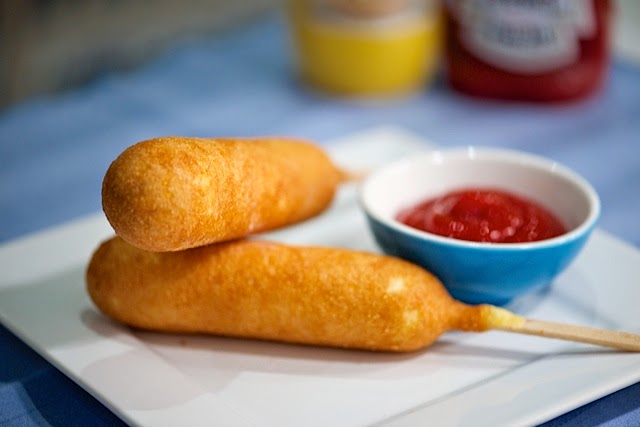 Foster Farm Corn Dogs got very favorable reviews from our gluten free family. "They taste like corn dogs—well, I don't really remember what regular corn dogs taste like–but they are pretty good."
The fact that my daughter would even try them was a pretty good sign. She usually rejects most processed food that is sent to me for a review. So her asking later "Can I have a corn dog for breakfast?" was a sign she really did like them. "Of course!" I replied. (We are big fans of dinner for breakfast.)
The corn dog batter is sweet so the corn dogs actually remind me of a cross between a donut and a corn dog—which is actually perfect for breakfast.
The smoky hot dog flavor of the sausage doesn't taste like chicken—which to me is a good thing as it takes more like a corn dog. The corn crust is not too grainy either and it stays together which makes it possible to serve them cut up as an appetizer.
I have to admit, I usually don't review non-organic processed foods—but Foster Farm was so nice about contacting me that I agreed—and I am happy I did because they are a great product and I am happy to have them as an additional option or a treat for my kids.
To win a voucher for a FREE box of Foster Farm's Corn dogs, please "like" the Foster Farms Facebook page to enter and leave a comment here that you liked their facebook page to be entered to win!
FIVE Winners will be selected on Friday, December 12th at 11:59 pm E.S.T! See below for more details.
Kids like them!

They look and taste like regular corn dogs.

You could serve them to anyone and they never would know they are gluten free.

7 grams of protein

6 grams of sugar

Frank is made with 100% chicken not beef.

Foster Farms Gluten Free Corn Dogs are certified by the Gluten Intolerance Group!
Not organic

Processed

Not GMO free corn

Lots of ingredients
1) Please "Like" the Foster Farms Facebook page and leave your comment on THIS post! (click on "comments" below) with your email or twitter handle!
2) Post your comment by 11:59pm EST on Friday, December 12th.
4) One winner will be chosen at random (using Random.org) and announced on Saturday morning, December 13th.
5) NOTE: If you wish to be contacted by e-mail if you win, please include your e-mail address or twitter handle in your comment. Otherwise you must check back on Saturday, December 13th at 12 pm. If the prize is NOT claimed within 72 hours, the next random winner (using Random.org) will be contacted.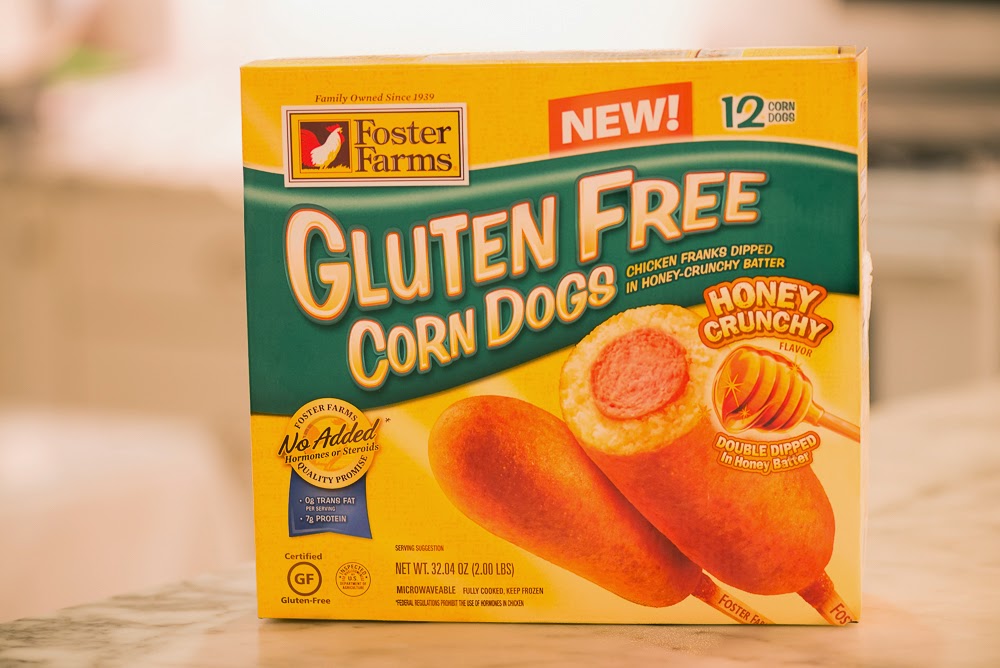 For additional information about the product, check out the website here.