Make your trip to the beach or the park (or your backyard!) super special with these fun finds!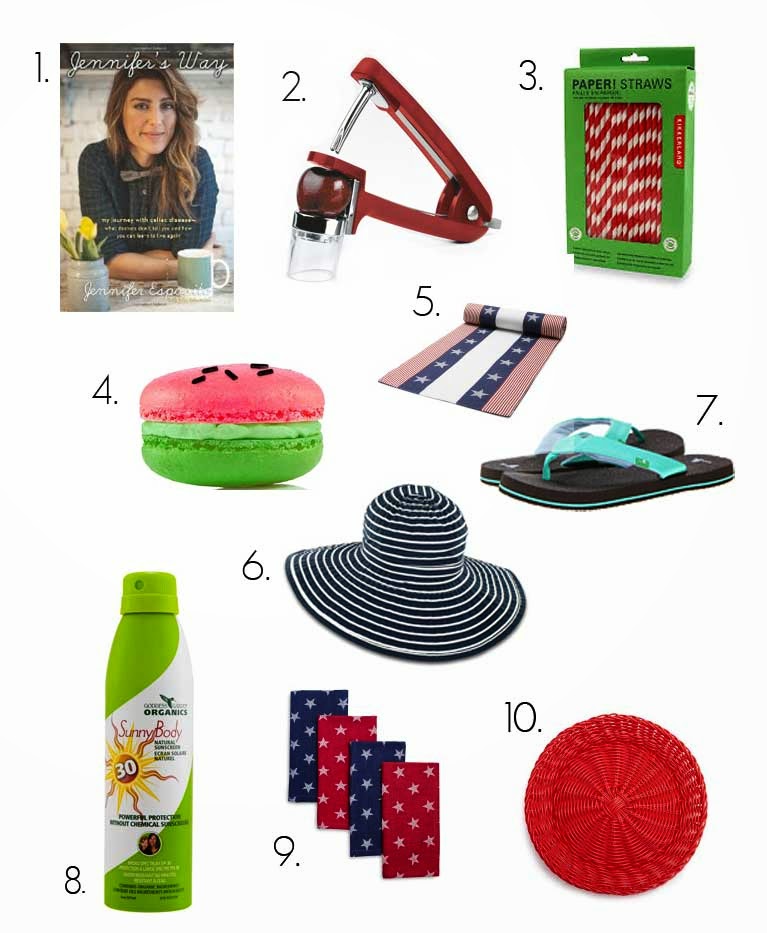 1. Jennifer's Way: My Journey with Celiac, Jennifer Esposito's first book, is an amazingly honest account of how Jennifer discovered she had celiac and how it changed her life.
2. This OXO Cherry Pitter makes eating cherries a fun summer activity for kids and adults!
3. Kids love straws and a glass of these fun red and white Paper! Straws makes a fun summer centerpiece.
4. Dana's Bakery Watermelon Macarons don't "seem" gluten free but they are made with almond flour and naturally gluten free!
5. You can have Fourth of July all summer with this Stars and Stripes Table Runner from Sur La Table.
6. This Ribbon Braid Hat is stylish and lightweight and folds up for travel.
7. Sanuk Yoga Mat Flip Flops are made from yoga mat material are SOOOOO comfortable!
8. This Green Goddess Sunscreen is available through Amazon Prime! Order a few bottles of this organic sunscreen to avoid the toxic ingredients in most sunscreens.
9. These Red and Blue Jacquard Star Napkins are a great hostess gift that don't won't up a lot of space in your suitcase.
10. Red Woven Plate Holders, on sale for $1.99, will brighten up any barbecue!