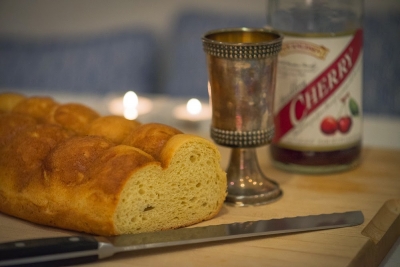 Challah is a traditional braided egg bread. Here is a list of gluten-free, kosher bakeries that sell challah.
Taffets challah was, by far, the winner of our gluten free family's challah taste test. Compared to the others, Taffets is freshly baked and soft–even after traveling overnight from Philadelphia to NYC.
All the challah we tasted was better when we microwaved it to soften it up. For a full loaf of challah, warm it in the microwave for a minute or so. For a slice, 15 to 30 seconds works well. Or you can pop it in the oven until warm. But, according to Lynn at
G-Free NYC
(and in our experience) the microwave works the best.)
Taffets Gluten-Free Challah
(from Philadelphia Bakery)
Available special order on Fridays from G-Free NYC or you can order directly from Taffets. Taffet's challah is freshly baked on Thursday and sent to
G-Free NYC
on Friday–but you need to special order it in advance from G-Free because it is only available by customer request. Taffets also has delicious bagels that you can special order directly from Taffets.
Heaven Mills Challah
Heaven Mills has oat challah available in several different sizes. They also carry egg-free and sugar-free challah. Heaven Mills was our second favorite after Taffets. But it is a prepackaged product that travels well but, unfortunately, it does not have a fresh challah taste.
Katz Gluten Free-Challah
Katz's has a small rice challah, oat challah or a large braided challah that are all gluten free.