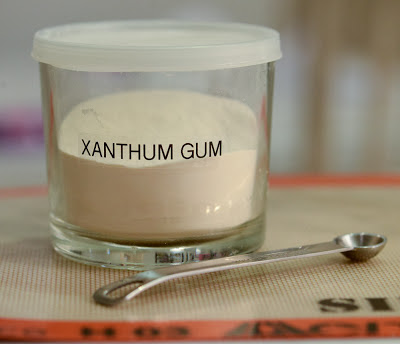 WOW! Bob's Red Mill xanthan gum used to be made with corn–now the bacteria used to make xanthan gum are being fed WHEAT glucose. Wheat is not listed on the ingredient label because it is certified gluten free.
In 2007, when we went gluten free, according to the nutritionist at the Celiac Disease Center of Columbia, all xanthan gum made in the US was cultured on corn and safe for people with celiac. Although we did not have a problem with corn–or with xanthan gum–I knew that many people who could not eat gluten reacted to this additive. This month two different people told me that xanthan gum was a questionable ingredient for anyone on a gluten free diet–so I did some research on it.
It turns out, as of 2012, Bob's Red Milll uses xanthan gum that is cultured on WHEAT GLUCOSE–which seems totally crazy to me. I am sure there are other sources of glucose so why use wheat glucose for a product that is labeled gluten free and used frequently in gluten free baking?
According to the Bob's Red Mill website:
"6/11/12 UPDATE: Regarding corn in xanthan gum: The microorganism that produces xanthan gum is actually fed a glucose solution that is derived from wheat starch. Gluten is found in the protein part of the wheat kernel and no gluten is contained in the solution of glucose. Additionally, after the bacteria eats the glucose, there is no wheat to be found in the outer coating that it produces, which is what makes up xanthan gum. The short answer here is, there is no corn used at all in the making of xanthan gum."
I know that according to the scientific testing available this product is considered gluten free–but I also know we have gotten sick from products (like Rice Dream) which are made with gluten ingredients but labeled gluten free because supposedly, the gluten is not present in the final product. While it is reassuring for some people who are allergic to corn that "There is no corn used at all in the making of xanthan gum" this statement brings up many questions for people who are on a gluten free diet who are using this product.
Bob's Red Mill lists guar gum as and alternative for gluten free baking and has a handy chart here. Gluten Free Girl, an amazing resource for anyone who is gluten free has started baking with psyllium to avoid the gums altogether.
To read more about wheat glucose in xanthum gum go to Bob's Red Mill article on Guar Gum and Xanthum Gum.
1/6/14: When I did some investigating and called manufacturers to find out more about xanthan gum someone said "Sounds like Bob's Red Mill is buying xanthan gum from China." It is just a theory–but interesting to think about where ingredients are sourced.
________________________________________________________________________________
Thank you to Serene from Organically Serene Hair NYC and to Gail Dosik from One Tough Cookie for bringing this to my attention.