A friend emailed me to ask "Do you know of a place that does gluten free event cakes?"

There are quite a few gluten free bakeries in NYC–here is a list…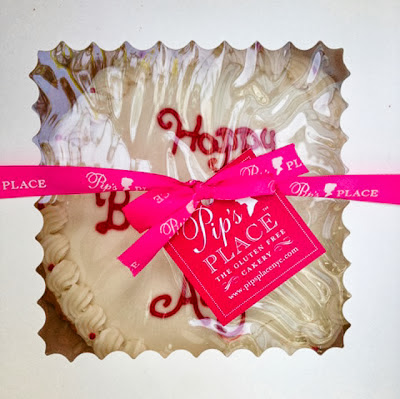 1) Pip's Bakery
Two locations in NYC so you can try slices of cake before you order to pick a flavor. Best selection of cakes, cookies and pastries. Best for gluten free/dairy free cakes. Most impressive packaging by far! ***We special ordered a gluten free/dairy free chocolate cake with chocolate chips for my eight year old's birthday from Pip's!
(Between 89th and 90th St)
Free delivery–these are the best cakes if you are gluten free. No store but you can sample cake pops to try cake flavor at G-Free NYC. You can order cakes directly from The Little Cakes or pick up at G-Free NYC on the upper west side. The cake pops are perfect because they are mixed with frosting but they are not overly sweet. Cakes are a little grainy but excellent–and the favorite among our picky gluten-free tasters. ***We ordered my twelve year old's birthday cake from Little Cakes!
New York, NY
(347) 644-8081
Downtown dedicated gluten free bakery with locations in Dallas too. Tu-lu's has mini cupcakes available and dairy and vegan cupcakes Fridays and Saturdays or anytime by special order.
Downtown dedicated gluten free/dairy free/soy free bakery.
Super clean ingredients are used–they prefer to decorate cakes with coconut, chocolate, and chocolate covered strawberries.
I have never been there but if you need a cake that is gluten free/dairy free/soy free and free of refined sugar
and probably less sweet than most gluten free cakes.
263 East 10th Street
(between 1st Avenue and Ave A)
New York, NY 10009
(646)682-9501
5) Crumbs Bake Shop – The Village/Gluten Free
Super sweet, extra largecupcakes–fun for kids.
Small selection of cakes can be be preordered–Carrot cake/red velvet/chocolate raspberry mousse cake can be ordered in advance for pickup. You can try smaller version in store in store or order big version)
Other places to find gluten free baked goods…
G-Free NYC
A gluten free store with a large selection of gluten free baked goods on the upper west side. They have a Fresh Baked Schedule of bread that is delivered fresh daily Monday through Friday.
77 West 85th Street (between Columbus and CPW)
New York, NY 10024
g-freenyc.com
By the Way Bakery OPENING AFTER THANKSGIVING!!!
By the Way Bakery has the MOST delicious cherry morello mini cakes which are available at G-Free NYC. They are opening a store in NYC after Thanksgiving.
2442 Broadway (at 90th Street)
Babycakes NYC
A vegan bakery that does have gluten free items. But, they use spelt in some baked goods so it is not a dedicated gluten free bakery.
248 Broome Street (between Orchard and Ludlow)
New York City, NY 10002