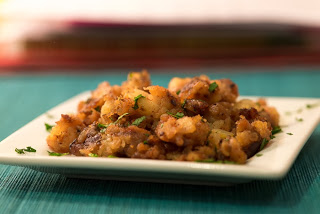 Jill Hopler is the owner of Your Personal Foodie in NYC. Jill prepares homemade, healthy and tasty food in your home for busy New York families. She has become an expert on gluten free meal preparation and cooks regularly for several families who are gluten free. When I have a party or a holiday dinner and need help Jill is always the first (and only!) person I call for help.
Jill helps me every year with my son's birthday party. This year she made hash brown potatoes to go with the pigs in blankets and sliders. I didn't tell anyone that I didn't make them when they were oohing and aahing over the potatoes because I wanted everyone to try them. Afterward, I fessed up that Jill had made them. "Just don't commit potato fraud" my husband advises me now. Here is her recipe for hash browns which can be served with breakfast or dinner.


Jill Hopler's Hash Browns
1 lb potatoes (whatever kind you prefer–about 2 large potatoes)

1/4 onion small dice (either yellow or red)

I clove of garlic minced

2T earth balance (or butter) divided

2T olive oil divided

paprika

Boil potatoes whole until 3/4 way done
Dice potatoes.
In
the meantime, add 1T of earth balance and 1T of olive oil to pan, add
onions and sauté until soft, add garlic and sauté until fragrant, add
potatoes sauté for 5 minutes and lightly mash with a potato masher or
the back of a spatula. Once potatoes start to brown, flip potatoes some
will brown and some will stay soft. Brown until desired doneness and
sprinkle with paprika.
For help with your family dinners call…
Jill Hopler
646.784.2777
Personal Foodie
Homemade, Healthy and Tasty in your home