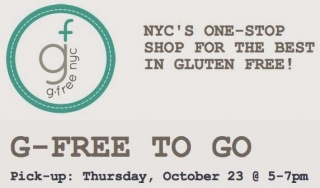 I am SOOOOO excited that this weeks "G-Free To Go" freshly made gourmet gluten free entrée is also dairy free that I feel compelled to post in advance of trying it!
This week's G-Free To Go is Beef Daube Provencal
served over noodles* priced at $12.50 per serving.
Contact G-Free at 646.781.9770 or
info@g-freenyc.com
by
Wednesday 2pm to place an order. Pickup between 5 pm and 7 pm on Thursday, October 23rd on the upper west side at:
77A West 85th Street (between Columbus & CPW)
New York, NY 10024
THANK YOU G-FREE NYC FOR A MUCH NEEDED NIGHT OFF OF COOKING!
*Ingredients:
Dairy free
Contains wine
P.S. Photos of Beef Daube Provencal to be posted on instagram @ourGFfamily on Thursday night!