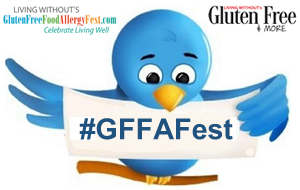 Join Erica Dermer of Celiac and the Beast for a Twitter Party tonight!!! There will be a bunch of free giveaways and Erica is always super fun in person and online. I can't wait to be part of this fun event to kick off the Gluten Free Food Allergy Fest next weekend in Indianapolis.
Gluten Free and More Twitter Party
Date: Wednesday August 13th
Time: 5-6pm PDT (8-9pm EDT)
RSVP HERE to join and win prizes!!!