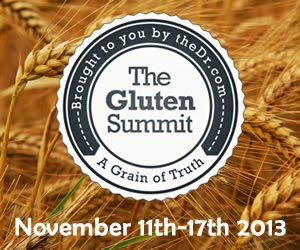 The Gluten Summit is a FREE week long online conference where scientists. doctors and nutritionists are virtually gathering together the latest research and science about gluten. To sign up to have access to the interviews go to
Gluten Free Summit SIGN UP
. It is FREE to sign up!!!
Below is the daily schedule of speakers.
Each day's interviews will be available for 24 hours between 10:00 A.M. EST – 9:59 A.M. EST the next day–but you MUST be registered to have access to the interviews.
Click HERE to sign up now before registration closes.
DAY 1: MONDAY, NOVEMBER 11
Michael Marsh, MD, DSC, FRCP, "Godfather" of Celiac Morphology
Mark Houston, MD, MS, ABAARM, FACP, FAHA, FASH, Assoc. Clinical Prof. of Medicine at Vanderbilt University
Cynthia Kupper, RD, Executive Director of the Gluten Intolerance Group
David Perlmutter, MD, FACN, ABIHM, President, Perlmutter Health Center
DAY 2: TUESDAY, NOVEMBER 12
Alessio Fasano, MD, Chief of Pediatric Gastroenterology & Nutrition at Mass General Hospital for Children
Rodney Ford, MD, MB, BS, FRACP, Pediatric Gastroenterologist & Food Allergy Expert
Liz Lipski, PhD, CCN, CHN, Owner of Innovative Healing, Inc.
DAY 3: WEDNESDAY, NOVEMBER 13
Aristo Vojdani, PhD, MSc, MT, CEO, ImmunoScience Laboratories
Mark Hyman, MD, Chairman of the Institute for Functional Medicine
Natasha Campbell-McBride, MD, MMedSci, Creator of the GAPS Diet
Erica Kasuli, MS, RD, CDN, Director of Nutrition at Amen Clinics
DAY 4: THURSDAY, NOVEMBER 14
Marios Hadjivassiliou, MD, Educational Associate, Association for Historical Dialogue & Research
JJ Virgin, CNS, CHFS, Best-selling author of "The Virgin Diet"
Tom Malterre, MS, CN, Co-owner of Whole Life Nutrition
DAY 5: FRIDAY, NOVEMBER 15
Daniel Amen, MD, Author of "The Amen Solution"
Andrew Keech, PhD, DSc, Author of "Peptide Immunotherapy: Colostrum a Physician's Reference Guide"
Nora Gedgaudas, CNS, CNT, Author of "Primal Body, Primal Mind"
Peter Osborne, DC, CNCB, Founder of GlutenFreeSociety.org
DAY 6: SATURDAY, NOVEMBER 16
Loren Cordain, PhD, "Godfather" of the Paleo Diet
Jeffrey Smith, Founder, Institute of Responsible Technology
Deanna Minich, PhD, FACN, CNS, Nutrition & Health Expert
Sayer Ji, Founder of GreenMedInfo.com
DAY 7, SUNDAY, NOVEMBER 17
William Davis, MD, Best-selling author of "Wheat Belly"
Jaqui Karr, CSN, CVD, Nutritionist & Lifestyle Expert
Dave Asprey, Writer of The Bulletproof Exec Blog
Suzy Cohen, RPh, "America's Pharmacist"
DAY 8 — BONUS DAY! — MONDAY, NOVEMBER 18
Umberto Volta, MD, Director of Coeliac Disease Simple Unit, St.Orsola-Malpighi Hospital, University of Bologna, Italy
Yehuda Shoenfeld, MD, FRCP, Head of Zabludowicz Center for Autoimmune Diseases, Sheba Medical Center
Tom O'Bryan, DC, CCN, DABCN, Founder of the Dr.com & The Gluten Summit