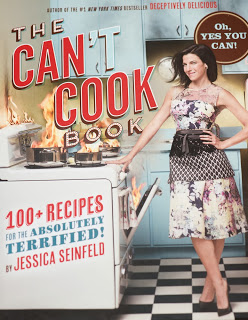 "Mmm—it's good." "Who ever seasoned this is amazing!" were the reports I got from Our Gluten Free Family on Jessica's Seinfeld's chicken wings from her new cookbook,
The Can't Cook Book
.
The cookbook is an impressive departure from her first cookbook, Deceptively Delicious. Jessica Seinfeld, most certainly can cook—and teach others how to cook. The book is filled with simple, surprisingly healthy, easy recipes for busy families (and people) who want to get dinner on the table.
This is a great present for…
anyone who likes chicken wings!
families with kids
young adults who are starting out on their own
anyone who can or can't cook—which basically means everyone!
Unlike her first book, the cookbook is actually full of naturally gluten recipes. This is mostly because so many of the recipes are made from whole food ingredients that are fresh and expertly seasoned.
Below I have listed some of the naturally gluten free recipes in the cookbook—just so everyone will know how gluten-free friendly The Can't Cook Book is.
There are other recipes (I just got
tired of listing them) and also a bunch of pasta recipes which can
easily be adapted to be gluten free by using rice or corn pasta.
I
regret not buying more signed copies for friends and family when I met
Jessica at a book signing last week–and not getting a picture with her that I could post. But here
is a photo of her signed copy to me.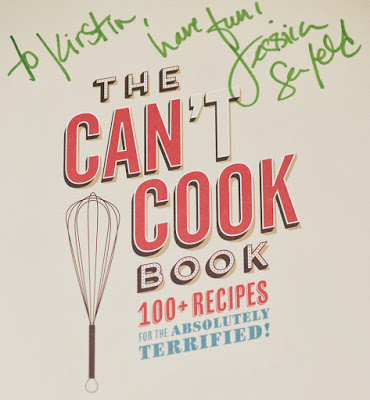 And–a picture of the chicken wings I made tonight…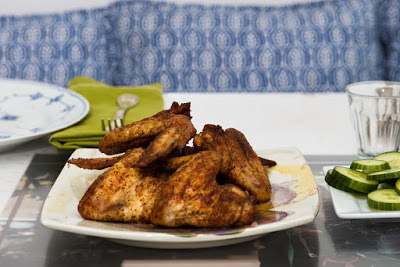 Recipes in The Can't Cook Book that are naturally gluten free…
Fried Eggs over Broiled Tomatoes
Soft Boiled Eggs
Sweet Pea and Onion Frittata
Huevos Rancheros
Pan Roasted Chicken Breasts
Skillet Roasted Potatoes and Chicken
Chicken with Rice and Peas
Rosemary Chicken Under a "Brick"
Fast and Juicy Herb Grilled Chicken
Sweet and Spicy Chicken Wings
Roasted Chicken Drumsticks – 4 Easy Recipes
Seriously Basic Roast Chicken
Simple Peppercorn Steak
Herb-Roasted Beef with Potatoes and Carrots
Chili-Rubbed Skirt Steak Tacos (with Salsa and Guacamole)
Your First Chili
Pork Loin with Apples and Onions
Apple Cider Pork Chops
Broiled Lamb Chops with Mint Jelly
Roasted Striped Bass & Tomatoes
Succulent Lemon-Thyme Salmon
Perfect Halibut over Spinach
Hoison Halibut (just use tamari instead of soy sauce)
Stewy Shrimp with Tomatoes and White Beans
Broccoli with Golden Raisins and Garlic
Green Beans with Almonds
Sauteed Spinach and Garlic
Smashed Red Potatoes with Chives
Roasted Asparagus with Lemon
Roasted Eggplant with Cherry Tomatoes
Roasted Cauliflower with Sage
Roasted Brussel Sprouts
Oven Fries
Roasted Lemon-Thyme Portabello Mushrooms
Roasted Sweet Potato Coins
Minty Sugar Snaps