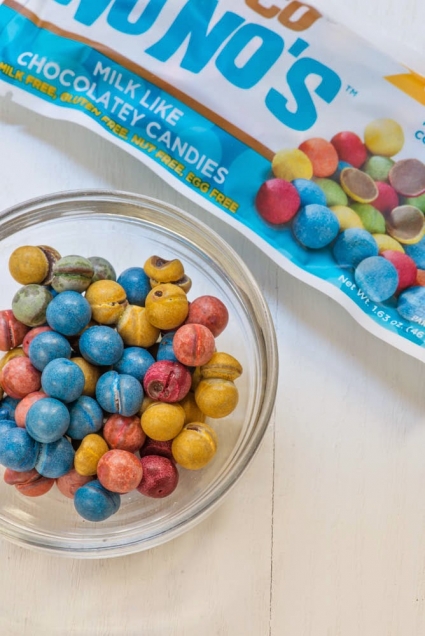 I always say "I can make anything gluten-free, dairy-free except M&M's and croissants." So I was thrilled to see an ad for these
No No's chocolate candies
which looked similar to M&M's on my Facebook page.
The chocolate candies are made with nut-free, dairy-free, gluten-free and egg-free ingredients so they are safe for everyone. In addition they are made with all-natural flavors and colors.


Looking up the product online–I could see that I wasn't the only one who missed m&m's! 1,155 people donated to the kickstarter campaign and pledged $47,895 to help Premium Chocolatiers to market. Which is a real testament to how many people on restricted diets miss M&M's.

After 7 years of being gluten free and dairy free I don't even remember what M&M's taste like–but I still miss them which prompted me to order No-No's immediately.
There are two versions–Chocolate No No's and Peanut Butter No No's. Here are the reviews…
First, my daughter was disappointed with the overall look of the candy. "I knew this candy was too good to be true. No artificial colors? That's hilarious." she said eyeing the slightly off color of the candy which looked more muted than the photo on the label.
My kids, who prefer mainstream candy that is naturally gluten-free and dairy-free, wouldn't touch them because of the slightly off beat look. But perhaps my kids who can eat skittles and starbursts and tic tacs aren't the market for candy with out artificial color. No No's would be perfect for kids on special diets who can't have artificial colors. And amazing for younger kids who haven't developed a taste for brightly colored mainstream candy.
"They are pretty good." said my friend Jill Hopler, who is a chef. "They look like beads. They aren't that sweet–which I like. They don't taste like an M&M's–but they are good."
I really enjoyed the Chocolate No No's and the Peanut Butter No-No's. In fact, I really had to make myself take these photos before I finished them.
Premium Chocolatiers also make a No Whey Candy bar which is a vegan, nut free candy bar. No Whey bars would be a great candy bar for halloween for kids with allergies to trade in their Milky Way bars! TheNo Whey mini bars which are available on Amazon
here
.
THANK YOU to Premium Chocolates for bringing No-No's and No Whey bars to the gluten-free, dairy-free, vegan community. And another big thank you to all the people who donated the money to help get No-No's off the ground. It's an impressive effort by so many people.