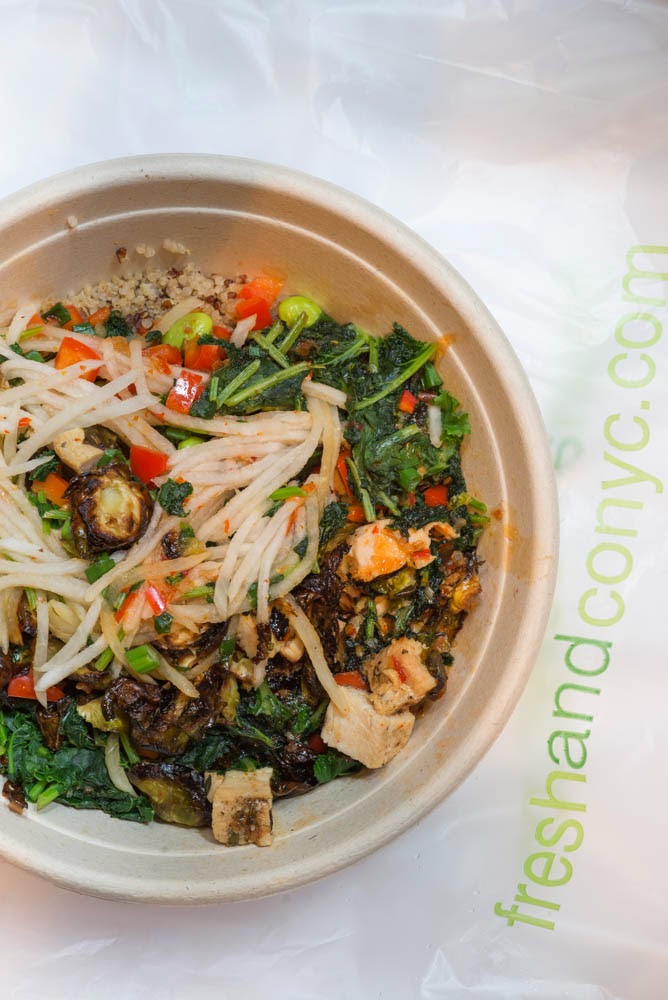 Fresh and Co. opened on my corner a few weeks ago and there is an amazing selection of gluten options available—naturally gluten free salads, freshly prepared quinoa or rice bowls, hot soups, desserts and snacks.
Most amazing and unique about Fresh and Co. is the process they use to cook the quinoa bowls which involves minimal cross contamination! The servers take a clean pan and shredded cabbage or kale and they steam it with a few tablespoons of water. Yes. Water. Fresh water. Next they sautéed the veggies and at the end they add chicken or steak. Finally they finish the bowl with whatever sauce you want and pour the freshly sautéed dish over quinoa or rice.

There is also a "market table" if you want a quicker meal. For the market table you choose whether you want a base of quinoa or rice pilaf, then you choose two sides and a meat. My nine year old loves the market table with rice, two sides of brussel sprouts and chipolte chicken!

There are several gluten free dessert options at Fresh and Co. including a hemp brownie and a power up snack of dried fruit, nuts and chocolate.

If you need a fast and fresh meal, Fresh and Co. is a great option. To find a location near you visit the Fresh and Co.