Finding a venue for a gluten free party in NYC is not easy. We were lucky to find Humphrey at the Eventi when we were looking for a space…
"It doesn't feel like Manhattan." my daughter whispered as we waited for the tasting to begin. "It feels like we are on vacation." On the enclosed tree lined terrace at Humphrey with sun streaming in through the glass it was quiet and peaceful. Although there is a coolness and sophistication to the decor, it definitely did not feel like March in NYC at all.
Julie, the surprisingly patient, organized and easy to work with Sales Director, in charge of events at Humphrey at the Eventi hotel sat with us to take notes of any changes we wanted as waiters brought us different plates to try. At our kid's food tasting we sampled…
Mozzarella sticks. Pigs in blankets (that disappeared before I could snap a "before" picture.) Chicken quesadillas with guacamole. Empanadas. Spring rolls. Chicken tenders with french fries. Macaroni and Cheese. And, sliders–YES! SLIDERS! ALL GLUTEN FREE.
Everything was shockingly flavorful, freshly prepared–and well presented–and, yes, gluten free! We requested a few changes as we went–simplifying the quesadillas and asking for different pizza toppings. Then we selected our favorite items but overall we were impressed by the food we sampled. Below are pictures of the items we tried. Since we are having both kids and adults at the party, we sampled the kids food first. I will post photos of the adult food tasting next week.
If you want to sample any of these dishes outside of a tasting for an event, enquire in advance when you book a reservation at their restaurant to see what they can do for you. I am hoping in the future, they will be able to take a short break from parties to create a gluten-free menu with these items.
Humphrey at the Eventi hotel can accommodate from 25-250
in their event space and up to 2000 in the plaza area. If you want to
book an event mention this post and they will offer a complimentary
signature cocktail for the event!
For private events contact Julie Garcés at julie@humphreynyc.com
For reservations at the restaurant call 212-201-4065.
Humphrey at the Eventi Hotel | 851 Avenue of the Americas
New York City | 10001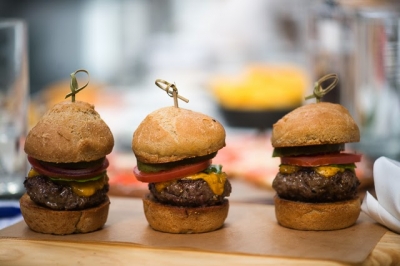 GF Sliders!!!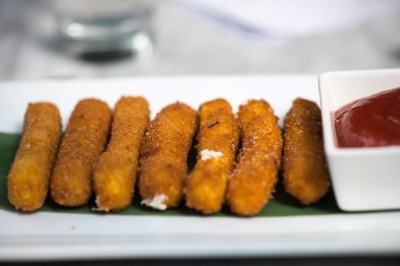 GF Mozzerella Sticks

GF Quesidillas

GF Empanadas

GF Spring Rolls with Dipping Sauce

Gluten Free Pigs in Blankets

GF Macaroni and Cheese

GF Pizza

GF Chicken Tenders with French Fries