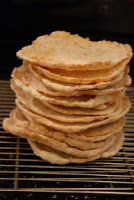 I really enjoyed making these matzah–a simplified version of the recipe I found at the blog I Am Gluten Free. The matzahs look very biblical and
homemade compared with the standard matzahs that come out of a box. It's a little stressful to have a religious holiday
centered around a food with gluten that needs to be blessed by a
rabbi, but I love our
homemade GFCF version and most importantly, my healthy kids! This grain free version contains soaked raw almonds which is the healthiest way to eat almonds
2 cups almonds (raw with skins) soaked overnight/12 hours and ground finely in
cuisinart or Bob's Red Mill Finely Ground Almond Meal
2 cups potato starch (I use Ener-G brand potato starch which they sell at East Side Health Food Store)
1 tsp xanthum gum (my orginal recipe called for 3)
2 tsp salt
2 Tbsp sugar or agave
1/4 c. Spectrum Organic vegetable shortening melted in 1/2 cup water +1/2 c. additional water
3 egg whites
Finely grind almonds in cuisinart
Add other dry ingredients and process in cuisinart until well blended.
Then put flour mixture into mixing bowl.
Add vegetable shortening melted in 1 cup warm water.
Then add 3 egg whites
Mix on high until light and fluffy.
Scoop 1/4 cup size pieces of dough and roll into balls.
Drop ball into potato starch and flatten a little.
Flatten dough in hands making sure to have enough potato starch tokeep it from getting sticky.
Place on baking sheet covered with parchment parer and gently press asflat as you can.
Bake in 400 degree oven for about 18 minutes until they are goldenbrown.
Here is a video of how you form the crackers: